ULRIKE HAHN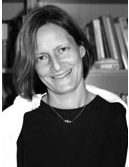 Birkbeck, University of London, UK
Ulrike Hahn's research covers a range of cognitive phenomena such as judgement and decision making, language acquisition, concept acquisition and similarity. She is a leading specialist in the field of experimental approaches to argumentation with extensive expertise on Bayesian models of argument and the cognitive features of convincing arguments.
.
SALLY JACKSON

University of Illinois at Urbana-Champaign, USA
Sally Jackson has developed her research programme as a systematic investigation of communicative design. She has greatly contributed to the study of normative pragmatics by focusing on the role of interaction and conversational features of argumentative exchanges in her account of argumentation as design.
.
JOHAN VAN BENTHEM

University of Amsterdam, Netherlands
Johan van Benthem's work has decisively influenced the international landscape of the study of logic for nearly 40 years. His research, broadly conducted as a systematic study of human reason, has covered all areas of logic and has many times extended its scope to explore issues in neighbouring disciplines such as mathematics, linguistics, game theory and cognitive science. His latest projects have been devoted to logic and information dynamics.
.
DEIRDRE WILSON
University College London, UK & University of Oslo, Norway
Deirdre Wilson is a key scholar in the field of cognitive pragmatics. She is the co-author of Relevance Theory, one of the most influential pragmatic theories of human communication and cognition. Her research has shaped the discipline over the years, covering phenomena of linguistic and rhetoric interest such as irony, metaphor, hyperbole, and her work represents one of the few genuine cognitive approaches to the relationship between understanding and believing.